Private education that is both
classical

and

Christian

.

Heritage Christian Academy is located in Lexington, South Carolina and is only minutes from the capital city of Columbia. Heritage is a distinctively Christian school offering an accelerated curriculum to capable students in Pre-K through 8th grade. Founded in 1996, Heritage has been educating students in the Midlands for over twenty-five years.

We encourage you to visit our campus, sit in on our classes, and talk with our remarkable faculty. You will see first-hand that Heritage is strongly rooted in the faith of our Lord Jesus Christ. You will come to understand the emphasis we place on academic success and fostering a love of learning in our students. Finally, you will observe our teachers' aspiration to build Christian character. We are confident that we have a winning formula because of over twenty-five years of success.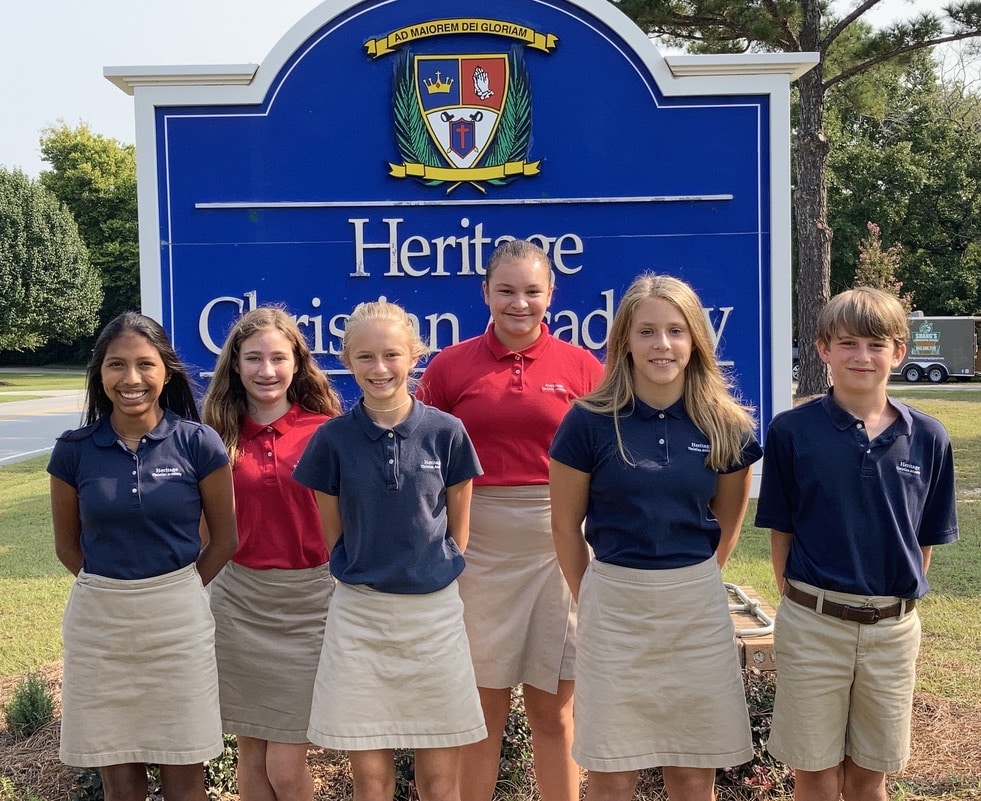 Our Campus
Heritage Christian Academy sits on an almost ten-acre campus dedicated exclusively for the education of our students. The lower and middle school classrooms are separated on the site, but students share the chapel, library, cafeteria, and athletic fields. You will walk around our grounds for just a short time before you observe the peacefulness of the property. You will notice our carefully laid out classrooms that inspire learning, creativity, and organization as well as our students' love of nature from their collections in the classrooms. You will observe classical prints adorning the campus walls and hear classical music played in our classrooms. Our campus has an atmosphere that inspires peace, cultivates joy, and motivates learning.
Statement of Faith
We believe that the Bible is the inspired and inerrant Word of God and is the final rule for all of life. Accordingly, our philosophy of education is founded upon several key Scriptural principles. While the list of principles below is not exhaustive, they are sufficient to allow us to draw the following right and necessary inferences that are the foundation of a distinctively Christian education.
God is the creator and sovereign ruler of all things, existing eternally as the Holy Trinity in the persons of the Father, the Son, and the Holy Spirit. (Gen. 1:1; 1 Tim. 6:15; Col 1:17; Matt. 28:19; John 10:30; Eph. 4:4-6)

God created man in His image, for His own glory, and to have dominion over all the earth. (Gen. 1:26-31)
God created families through the institution of marriage. (Gen. 2:18-25)
Children are a gift, heritage, and blessing from the Lord. (Psalm 127:3-5; 128:3-4)
Parents are instructed to teach their children and children are to obey their parents. (Exod. 20:12; Deut. 6:6-9; Eph. 6:1-4; Col. 3:20)
Jesus said we are to love the Lord with all of our heart, soul, mind, and strength. We are to do all things to the glory of God. (Mk. 12:29-31; 1 Cor. 10:31)
"The fear of the Lord is the beginning of wisdom, and the knowledge of the Holy One is understanding." (Proverbs 9:10)
Sinful men cannot know God or His truth except through a personal relationship with Jesus Christ. The ongoing work of the Holy Spirit enables us to know and understand truth. (Rom. 3:23; 6:23; 8:9,14)
Parental Involvement
Many vital functions of life at Heritage Christian Academy are dependent upon the efforts of parent volunteers. There are many opportunities for parents to be involved in the school in areas ranging from assisting with carpool, assisting with maintenance items, chaperoning field trips, serving as a class parent, and helping to coordinate Grandparents' Day or Fine Arts Day. A list of volunteer opportunities is included in our registration packet and is distributed at Parent Orientation before the start of each school year.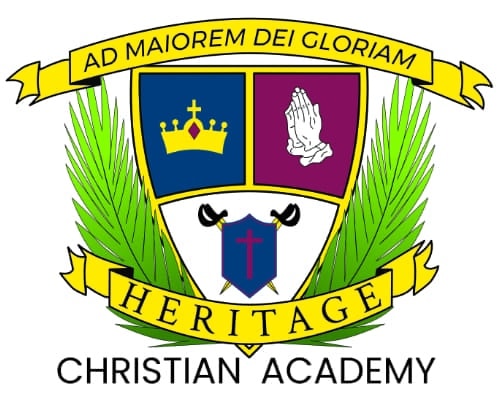 Dress Code
Students at Heritage wear uniforms that differ depending on the age of the student. Specifics about our school uniforms and where to purchase them are included with the registration packet once a student is officially enrolled. Heritage also has a uniform closet in which previously worn uniforms are available for a small donation.
Our Philosophy
The mission of Heritage Christian Academy is to provide academically-able students a classical educational experience designed to help them know, love, and practice that which is true, good, and excellent and to prepare them to live purposefully and intelligently as they pursue the individual calling God has given them.
Activities
At Heritage Christian Academy we provide opportunities for our students to speak and perform in front of an audience. Our desire is to prepare our students to be confident leaders in an adult world. These opportunities include recitations in class, recitations for Grandparents' Day and plays performed at Fine Arts Day. Believing that God has uniquely gifted each child with specific abilities, we also offer a varied selection of extra-curricular activities including talent show performances, basketball, tennis, student council, and state level competitions in the areas of math, general academics, science, spelling and literary skills.
Elevating that which is true, excellent, and beautiful.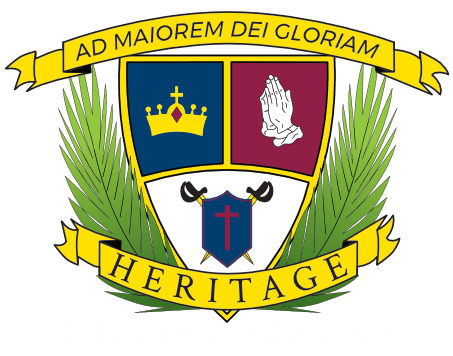 Address:
649 Barr Road
Lexington, SC 29072