Admissions
Thank you for your interest in Heritage Christian Academy.
Our school was founded in 1996 as a tool for Christian parents to fulfill their obligation to train up their children in the nurture and admonition of the Lord. We offer a challenging curriculum that has proved very successful. Small class sizes and enthusiastic teachers make for an atmosphere conducive for learning. Our students study literature, art history, classical music, and Latin in addition to their core subjects.
Heritage students compare favorably to top schools in the country on standardized testing. Parents are encouraged to schedule an appointment to visit our classrooms and ask questions about our school.
Have questions about our admissions process? Contact our admissions office online or call 803-951-3901.
Procedures to Apply
If after prayerful consideration you would like to apply for your child, please use the following admissions procedure:
Complete the online application or request a paper application from our office and submit with the required $150.00 non-refundable application fee.
If submitting an application for Kindergarten or Class One, have your child's Pre-K or 5K teacher complete the Confidential Teacher Evaluation form. If applying to Class Two through Class Eight, have your child's current mathematics and English teachers complete the Confidential Student Recommendation form.
Submit a copy of your child's last report card.
Have your pastor or other church official send in the Pastoral Reference form.
Procedures Following Receipt of Application
Upon receipt of all documents and the application fee necessary for admission, the following procedures will ensue:
A student screening will be scheduled and completed.
A parental interview will be scheduled and completed.
Your application package will be reviewed by the Admissions Committee.
The Admissions Committee will notify you of their final decision.
After receiving a letter of acceptance, payment of the $500 registration fee is due to secure your child's place in the class. You will be given a registration packet upon receipt of the registration fee.
Tuition
Heritage Christian Academy offers competitive and affordable tuition that can be paid monthly, biannually, or in one single payment. Your child's registration fee and tuition payment are used for academic curriculum and facilitating excellent classroom instruction from our qualified teachers.
Application
We encourage families to apply online as it simplifies submission and provides parents the ability to track the status of their child's application. Upon account creation, you will receive an email containing a verification link.
Heritage Christian Academy admits students of any race, color, national and ethnic origin to all the rights, privileges, programs, and activities generally accorded or made available to students at the school. Heritage Christian Academy does not discriminate on the basis of race, color, national and ethnic origin in administration of its educational policies, admissions policies, scholarship and loan programs, and athletic and other school-administered programs.
Elevating that which is true, excellent, and beautiful.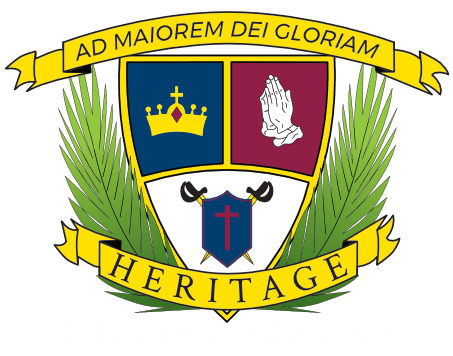 Address:
649 Barr Road
Lexington, SC 29072